Studying abroad can be a life-changing experience for students. The benefits of studying abroad are manifold. You get a head start on your education and career from enhancing your global network to experiencing a new culture. Given the benefits of studying abroad, it comes as no surprise that Indian students, every year, are getting more and more inclined to study abroad.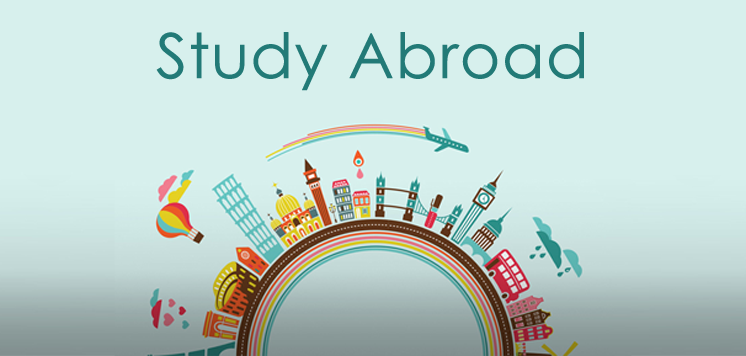 Diverse Courses to Choose From
One of the most significant benefits of studying abroad is selecting from a wider variety of courses, including research options and skill-based training for students. Specific programs abroad allow you to take different courses simultaneously. So you can pursue literature while studying the subject of your choice. 
Makes You More Employable
Graduates who have a degree from a reputed foreign university are highly sought after by employers. Pursuing a degree overseas proves that you have courage, flexibility, cultural awareness, and an understanding of how other people work and think. This experience puts you ahead of the competition regarding internships and job opportunities.
According to a recent study, 64% of employers consider study abroad experience necessary, and 92% of employers look for transferable skills typically gained from experience, such as flexibility to new challenges.
Another survey found that almost 40% of companies missed out on international business opportunities due to a lack of personnel with international experience. Therefore, it is pretty clear that one of the most significant benefits of studying abroad for Indian students is that the degree becomes a powerful resumé booster that shows employers that you have the skills they need to achieve their business goals.
If you are planning to move to the U.S. for your higher education, sign up for a Zolve Credit Card and Zolve Bank Account, and start building your credit footprint in the country from Day 1.
International Exposure
Studying abroad helps you learn approaches to handle different situations, manage time between your studies and part-time jobs, and experience international ways of working and dealing with a massively cosmopolitan crowd. This also helps increase your acumen on the subject and life.
Getting a Higher Quality Education
One of the most significant benefits of studying abroad is the standard of teaching. It may be higher than in your home country. Having access to a higher level of education can help you in your chosen career. Overall, this meaning studying abroad could be excellent value for money. Studying abroad exposes you to a broader pool of universities and programs to pick from.
Completing a degree abroad is a real testament to your academic career. Studying abroad can help you boost your application and personal statement, thereby showing your dedication to the subject of study.
The international academic community is a very well-respected circle. And, studying abroad means you will have international connections and fresh ideas on topics.
If you are planning to move to the U.S. for your higher education and are worried about the education loan, Zolve has got you covered. We will connect you with the best in-class loan providers which will help you compare different loan offers.
See the World
The most significant benefit of studying abroad in college is the opportunity to see the world. You will experience a brand-new country with incredible new outlooks, customs, and activities by studying abroad. Additionally, you will also get the opportunity to see new terrains, natural wonders, museums, and landmarks of your host nation.
When studying abroad, you won't be restricted to exploring your nation but seeing the neighboring countries!
World-Class Education
Another benefit of studying abroad is the chance to experience different styles of education. By enrolling in a study abroad program, you might be introduced to a side of yourself that you didn't get a chance to experience in your home country. Many people who have studied abroad say that completely immersing themselves in the educational system of the host country has helped them understand the people, its traditions, and its culture. Education is the primary part of studying abroad; therefore, choosing the right school is significant.
Experience New Culture
While there are multiple benefits of studying abroad, the students who opt to do the same usually leave their home country for the first time. When you arrive in a new country, there is a significant chance that you will be fascinated by the distinct cultural perspectives, new cuisine, customs, traditions, and social differences. This will also help you better understand and appreciate the national culture and history. You will get a chance to witness an entirely new way of life.
Learn New Languages
One of the most enticing benefits of studying abroad is that you get to learn new languages. Your host university will likely offer language courses to provide you with more formal education. This gives you a chance to completely immerse yourself in a new culture beyond the whole academic experience.
Experience a Different Style of Teaching
Studying abroad can help you expand your academic horizon and develop the capacity to adapt to various educational settings. Each country comes with its unique style of teaching. By adapting to different types of teaching styles, you will be able to adjust to different management styles, making you more versatile in the workplace.
The teaching style abroad can be authoritative, where a professor is the authority figure and frequently gives long lectures or one-way presentations.
It can also be a facilitator style where the professors promote and encourage self-learning by emphasizing student-teacher relationships. This helps students develop critical thinking skills by teaching them to ask questions and find solutions by exploring.
It can also be a delegator style where professors assign activities and give students in-class projects to help them stay engaged. The teacher acts more like an observer while helping students remain active participants in their learning.
Enhance Your Network
One of the sought-after benefits of studying abroad for Indian students is that it helps build invaluable relationships with people worldwide. You give your career a headstart but, it also helps you broaden your international connections. Also, you will have the opportunity to meet people that could turn into life-long friends. Some connections can even lead to career opportunities, including internships, job offers, and business partners.
The university you will study at will often have a large community of students from local regions and abroad. This will help you meet people from different backgrounds and cultures.
Develop Your Confidence
While it might take some time to understand an entirely new culture, one of the benefits of studying abroad is that it helps you develop valuable life skills. these skills are needed for personal growth, including independence and adaptability. It will also help you give an additional perspective and boost your confidence in your personal and professional life.
There is no doubt that studying abroad can be overwhelming. But, the challenges you overcome can help you become a more mature person. It will help you discover that you can thrive in new, unexpected circumstances. Moreover, you'll boost your communication skills by speaking a new language.
By quickly adapting to your new environment, you will also develop self-reliance and resilience. It will make you a more capable person from small tasks, like going to the doctor, to more significant issues, like learning how to negotiate with a professor or adapt to a different culture.
Discovering Career Opportunities Abroad
Studying in a new country exposes you to better career opportunities, depending on the field of study. For example, if you are studying finance, New York is an excellent place to study since it is the world's financial center.
Often, organizations hiring international employees want to see evidence that candidates can thrive in a global environment. Studying abroad as an Indian student gives you that edge and proves that you have the necessary skills.
Find New Interests
If you still have any doubts about the benefits of studying abroad as an Indian student, let us help you. Studying in a different country offers many new activities and interests that you may never have discovered if you stay at home. You might find that you have an as-yet-undiscovered knack or talent for various activities. It includes hiking, water sports, snow skiing, golf, or various other new sports you may never have tried back home. Additionally, you will also get a chance to discover other new enjoyable activities like plays, movies, dancing, nightclubs, and concerts.
Make Lifelong Friends
Studying abroad will help you get to know and create lasting relationships with your classmates. One of the most significant benefits of studying abroad is meeting new lifelong friends from different cultural backgrounds. It is advised that after your course ends, you should stay in contact with international friends. This will help you experience rewarding personal relationships, and these friends can be essential networking tools later.
We at Zolve provide U.S. Bank Accounts and Credit Cards to people moving to the U.S. without an SSN even before landing there. We are one of the pioneers in the space, having about 70% of the India-US market share of the students in Spring '22.
Also, at ForeignAdmits, we understand how important this decision is. We are here to help you every step of the way, from finding the right school to getting admitted and securing scholarships.
ForeignAdmits have a team of experienced counselors who can provide you with customized guidance based on your individual needs contact us today to get started. We look forward to helping you achieve your educational and career goals!